Originally Posted on Fluid Motor Union:
If you saw it on Facebook, then you already know. For those of you who don't, we're currently in possession of a SEMA-bound CLK63 AMG Black Series.
A while ago, we were approached by Joe Galante on behalf of Raging Bull Marketing, a company in the Pacific Northwest that specializes in the marketing of vehicles. Some of their previous builds have been nothing short of outstanding, and they were looking to us for one seriously trick, SEMA-worthy exhaust setup for a CLK Black Series. After some back-and-forth, snarky witticisms, Anchorman quotes and liquid courage, the wheels began to roll. What started as an exhaust ballooned into a fully custom exhaust setup, featuring both FMU's long-tube header design and a custom piping scheme from the collectors back, along with one of our oil coolers. Before we even knew it, a two-story vehicle hauler showed up on our doorstep around midnight last night, and we were greeted with a beautiful sight: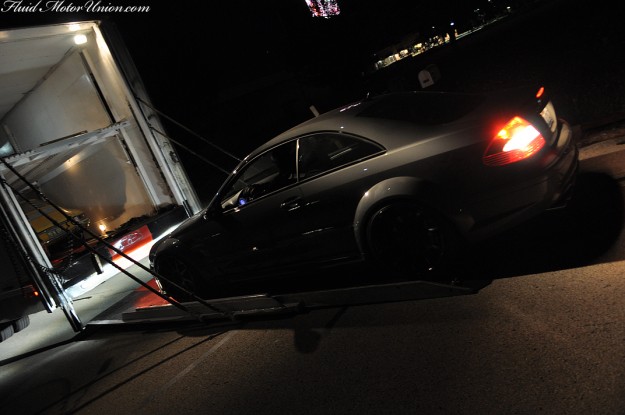 With the BS secured in our garage for the evening, we sought some rest. Upon our arrival this morning, though, cameras began rolling and snapping. The most obvious things you'll notice about the vehicle below is the aggressive wheel setup coupled with one very unique paint scheme. We at Fluid have come up with several different names for the paint, but only Joe (the man who mixed it himself) knows the true title for this tint. The wheels are none other than ADV.1's ADV.10 design with quite the aggressive fitment, coming to just about flush with the massive BS-exclusive fender flares. It's one of the most beautiful cars we've ever encountered, and it's only been here for twelve hours. Ideas are floating around, as they have been for months, so the coming weeks are shaping up to be nothing less than utterly epic. We can't wait to get together with Joe in Chicago and show him how we do things in the Midwest. Until then, let's take a gander, shall we?
Currently, our first step with the Black Series is to get it on the dyno, which we did. It's undergoing some runs to find its baseline power, so we can see just how much power the long-tube headers and exhaust will add to the mix. This is already a seriously powerful car, but since it will be competing in Global Time Attack's Modified RWD class, it's going to need that competitive edge.
Thanks again goes out to Joe and Mitchell of Raging Bull Marketing, as this is one opportunity we're both humbled and overjoyed to undertake. Look out world, Fluid MotorUnion is about to turn your shit upside-down.