Just finished up testing our new Vibrant exhaust in Phoenix for XDC.  The setup that was on the car had seen better days. It was a mild steel 3 inch down pipe mated to a 2.75″ inner diameter aluminum exhaust that was light, but restrictive.
We knew we wanted to go 4 inch, but how? I mean that is a massive diameter, try fitting a grapefruit under a drift car… Although my car is a monster truck, it still would not fit well and would lead to clearance difficulties. Vibrant gave us the answer with their rad new T304 Stainless Steel Oval exhaust tubing. Full 4 inch piping, but only just over 2 inches of vertical height! Plus is looks like it belongs on a Big Tymers car, "I like loud pipes, Big rims, White Ice!"
Getting my roll on, I headed over to Toxic Fabrication. The owner Collin Meyers is a gnarly fabricator and knew just want needed to be done.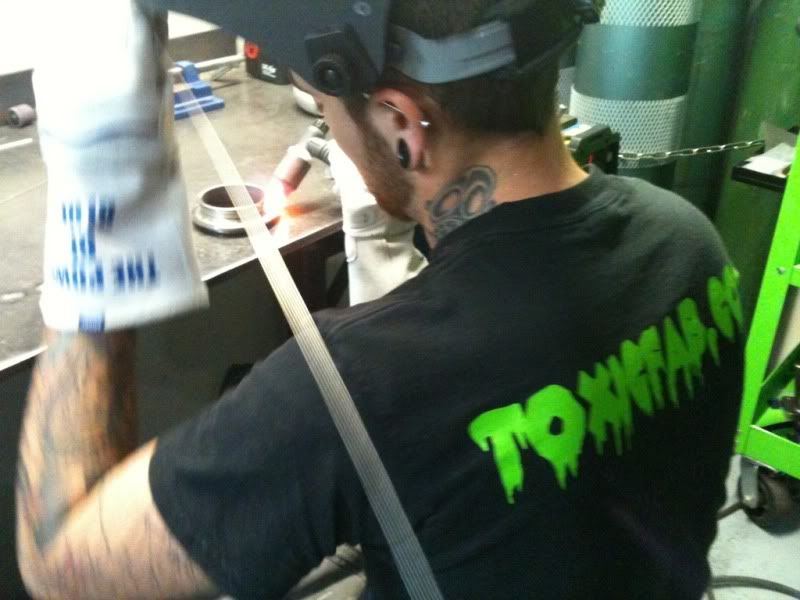 Here is the downpipe. We wanted to go to 4 inch as soon as the car gave us the clearance to, so we utilized a Vibrant 3 inch stainless mandrel bend then immediately coupled it to a 3 to 4 inch expander. Attached to the expander is the start of the 4 inch with a 45 degree mandrel bend, that is welded to the 4 inch round to oval transition with welds that speak for themselves. This piece looks like a 2 stroke snowmobile exhaust! Totally ill'! Collin and I were amped to see the finished product. Fully back purged!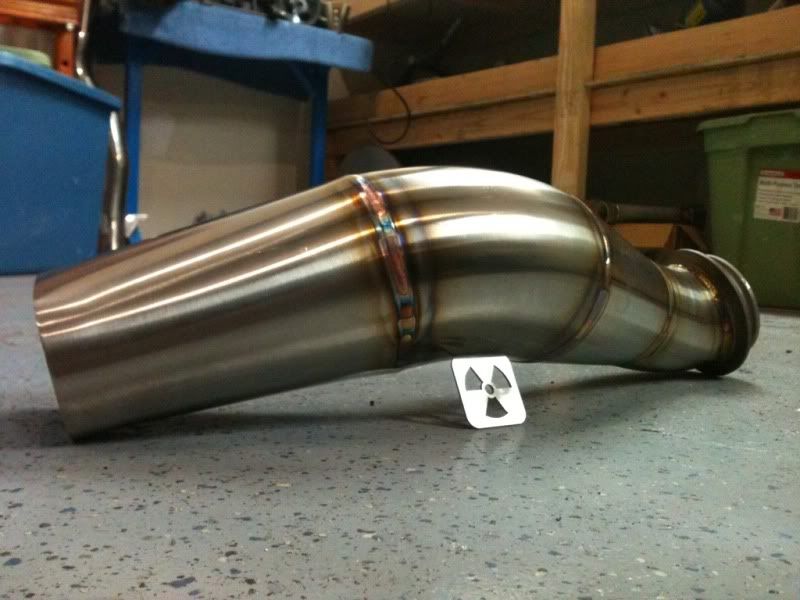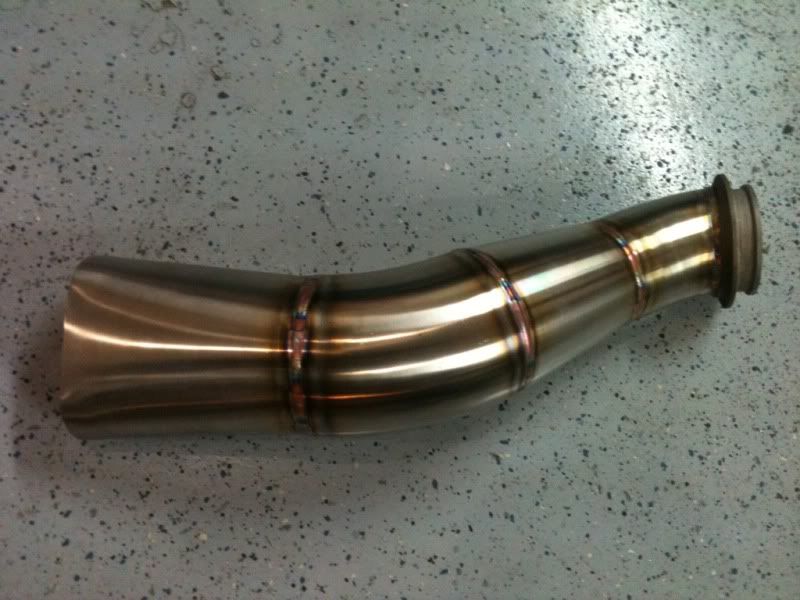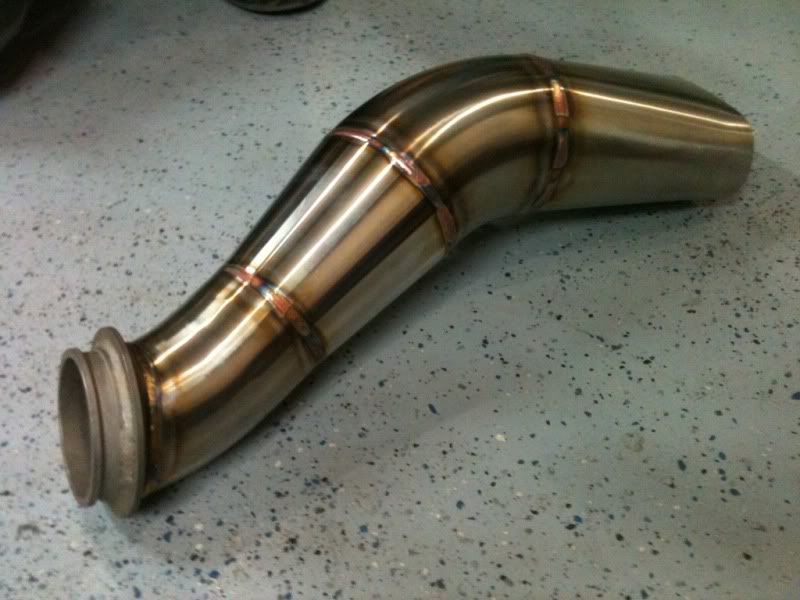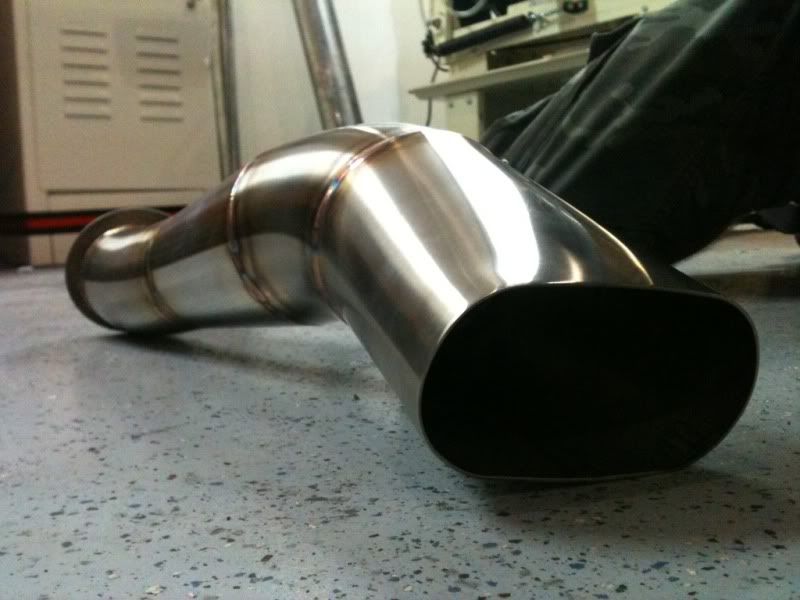 Then we moved onto the fun part. Since we knew there would be less then 10 degrees of bend from the downpipe to the bumper, we decided to have some fun pie cutting the oval tube. This is neat because you can cut the oval tube so that it not only bends left to right but up and down at the same time. Here are some pictures of the exhaust being fitted.
Downpipe is on the car and the first bends are in place.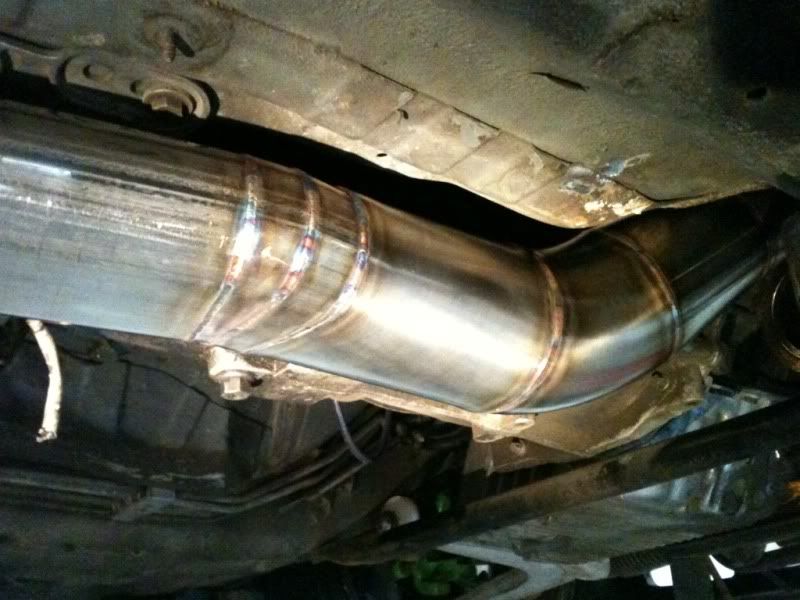 Back off the car for a few more fitment needs.
Exhaust piping all the way to the bumper with minimal bends and no clearance issues!
[IMG]http://i66.photobucket.com/albums/h279/ienjoydrifting/8f706bec.jpg[/IMG]
You can almost see the turbo!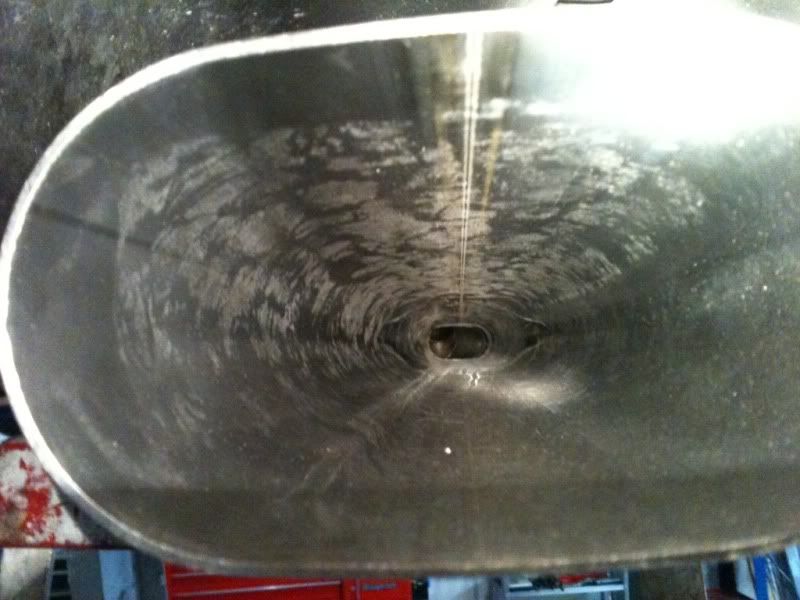 On the car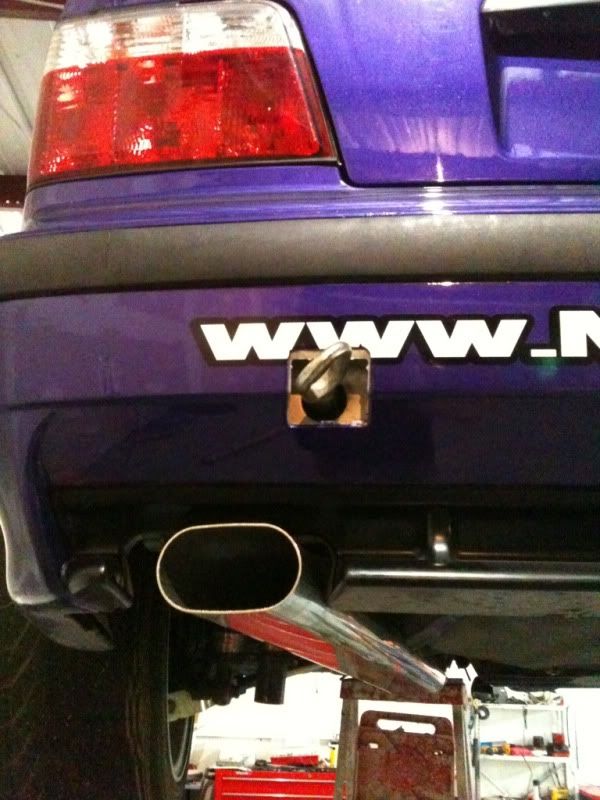 We had decided that the exhaust needed a special touch. These 3 words will only come out of my mouth when talking about exhausts "TURN IT DOWN"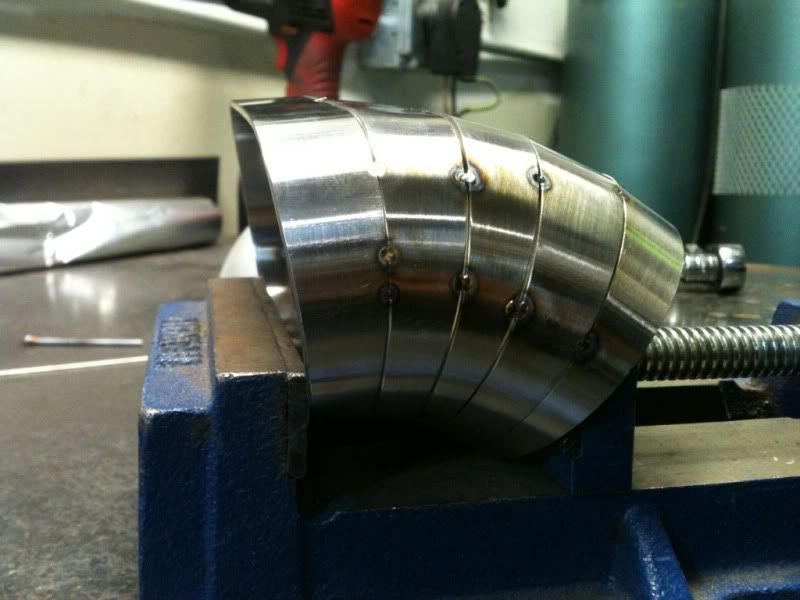 Pie cuts!
Toxic FAB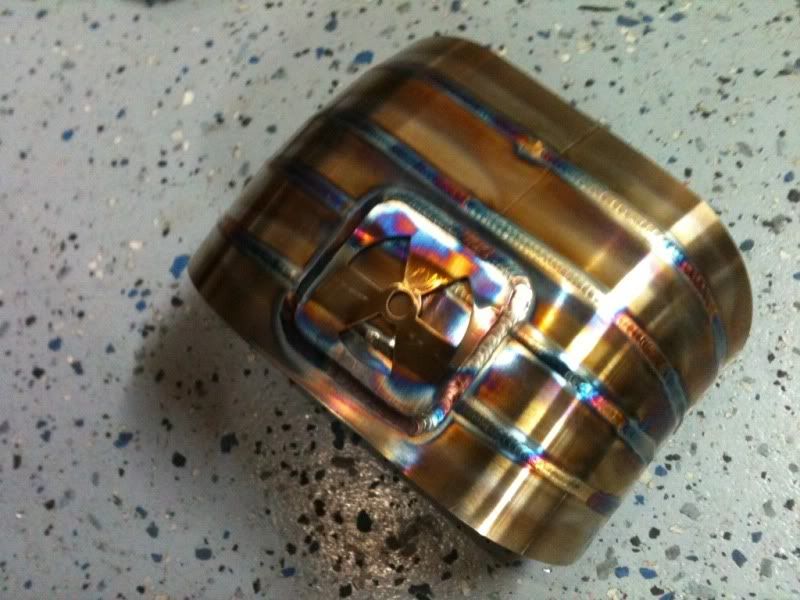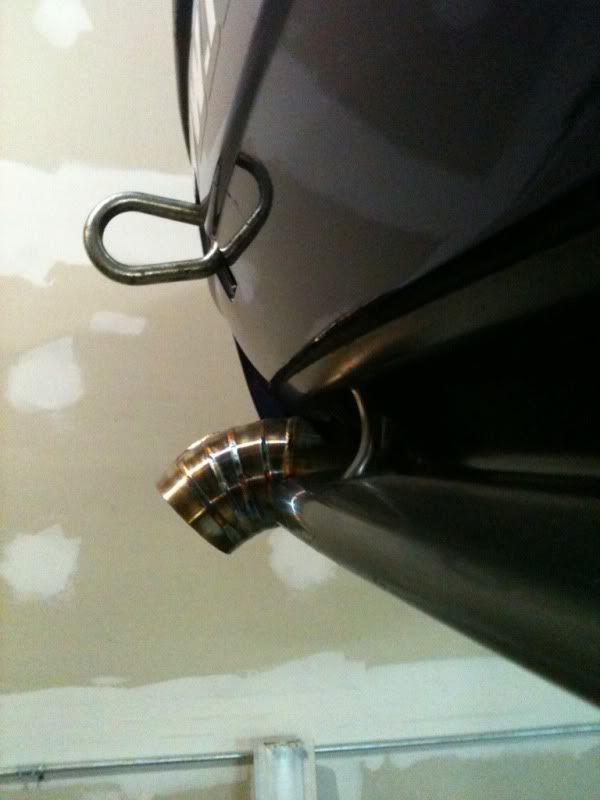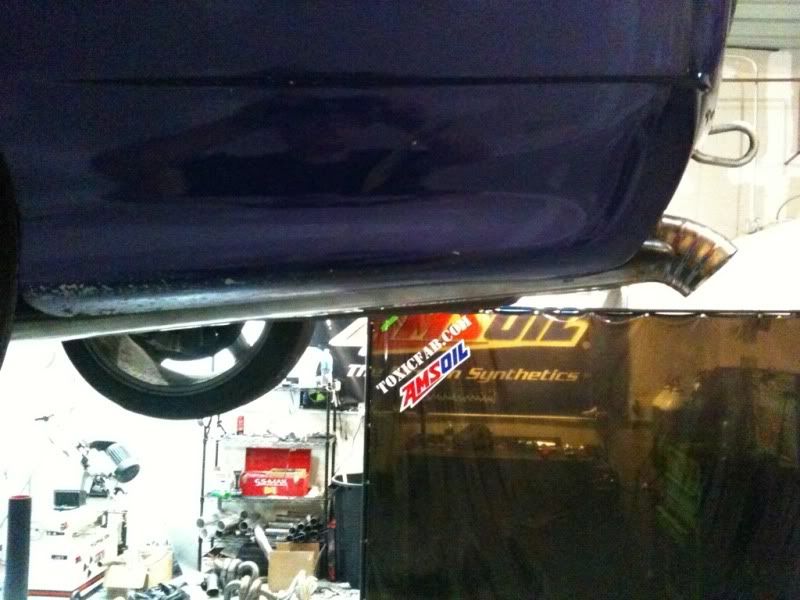 Overall the exhaust turned out awesome! Sound is great! It's about 30% louder then the old 3 inch, and has a much more aggressive tone. The real difference was spool time and the power throughout the band. Boost comes in faster and 300 RPM earlier! We are headed to the dyno next week, but in AZ heat it felt like it had another 40+ Horsepower at the wheels. Maybe this is exhaust is the reason I was trapping 5-8 mph faster then everyone at the entry point…
Comments